LUXJB PRIVATE CHEFS

Being on vacation means minimum effort, maximum enjoyment.
We offer a private chef so you can enjoy
FINE DINING in the comfort of your villa.
Our in-house chefs have the most popular in-home prepared meals.
Custom tailored to each guest's requirements or design your own menu.
Scroll down to see our menus.
-ASIAN-
CHEF'S WELCOME COCKTAIL
SALAD & APETIZERS
Wakame and Cucumber Somouno
Miso, Ginger
Crispy Wontons w/ Edamame Hummus
SUSHI EXPERIENCE
Jalapeno Crab
Avocado, Agua Chili
Hamachi Doe
Torched Yellowtail, Mountain Carrot, Popcorn Sprouts
Bamboo Tuna
Bamboo Rice, Cucumber, Avocado, Bubu Arare Crunch
TEPAN STYLE
Filet Ponzu
Garlic/Black Pepper,
Cilantro and red Onion
Ginger Prawns
Shishido Peppers, Chili Ponzu
Sous Vide Chicken
Miso Mustard
Shaved Rainbow Carrot Slaw
SWEETS
26 Layer Matcha Crepe Cake
Pistachio Soil,
Brandied Berries

-ITALIAN-
CHEF'S WELCOME COCKTAIL
Prosecco Mango Bellini
Historia Batard
Mediterranean Hummus
Chop Salad
Cucumbers, Chickpeas, Hearts of Palm, Teardrop peppers, Romaine,
Lemon Parmesan Oregano Dressing
Flat Bread Pizza
Pepita Pesto, Blistered Tomatoes,
Mozzarella and Parmesan
Cavatappi Pomodoro Silica
Stewed Roma Tomatoes
Organic Sausage,
Caramelized Peppers and Onions
Chicken Picatta
Lemon Butter White Wine
Gnocchi With Mushrooms
Bamboo Salmon
Vegetable Spiked
Whole Grain Mustard Creme
Historia Bakery Tiramisu
Chocolate Anglaise

-MEXICAN-
CHEF'S WELCOME COCKTAIL
Tequila Fresca
TACO & SALSA BAR
Organic Tortillas, Cilantro Chicken Asada,
Ground Beef, Cotija Cheese, Shaved Cabbage,
Heirloom Pico, Tomatillo Salsa, Roasted Romano Ancho, Guacamole
CORN & BLACK BEAN SALAD
Persian Cucumbers, Cherry Tomatoes, Cilantro Lime Dressing
TEQUILA LIME CHICKEN
Sous Vide For Three Hours, Tequila Lime Cream, Simmered Potatoes,
Roasted Chard Red Onions, Green Olives
HISTORIA BAKERY TRES LETCHES
Wild Berries

-MEDITERRANEAN-

CHEF'S WELCOME COCKTAIL
Sangria Gin Fizz
Herbal Sangria, Hendricks Gin, Pomegranate Ginger Syrup
TABLE TALK
Warm Pita (Regular & Whole Wheat)
White Bean & Ethiopian Hummus, Olive Tapenade
Chef's Final Touch Extra Virgin Olive Oil
SALAD
Heirloom Tomatoes Panzanella Salad
Pickled Persian Cucumbers
Kalamata Olives, Rocket Arugula, Toasted Ciabatta
Lemon Feta & Oregano Dressing
SIDES
Roasted Acorn Squash With Moroccan Couscous Roasted Vegetable Mosaic
Preserved Lemon Broth
Roasted Rainbow Carrots
Harissa Agave Glaze
Petite Greens
ENTRÉE
Chicken Medi
Organic Free-Range Chicken
Castelvetrano Olives, Tomato, Artichoke, Lemon Thyme Veloute
48 Hour Braised Short-Ribs (Beef)
Basil Roasted Eggplant, Potato Hash
Northern Halibut Tarragon Pistachio Gramelat
Falafel w/ Tahini Sauce
DESSERT
European Pastries
Ferrero Rocher, Chocolate Raspberry Mousse, Assorted Biscotti

-THANKSGIVING &
NEW YEAR'S EVE DINNER-

CHEF'S WELCOME COCKTAIL
Warm Eggnog, Dark Rum, Twisted Cinnamon Puff
SALAD
Kale & Quinoa Salad
Roasted Beets, Organic Cranberry, Pepita & Roasted Shallot Vinaigrette
*** Gluten Free ***
A GLUTTONOUS TREAT
Assorted Harvest Muffins
Cinnamon Molasses Butter
PROTEIN
Herb Infused Free Range 48 Hour Brined Turkey
Fresh Turkey Gravy & Cranberry Relish
*** Can be Gluten Free ***
SIDES
Country Mashed Potatoes
Herbaceous Butter
*** Gluten Free ***
Ciabatta Stuffing
Parsley, Sage, Rosemary & Thyme
VEGETABLE MOSAIC
Tinkerbelle Peppers, Roasted Red Onions, Turnips, Asparagus & Butternut Squash
Together in a Roasted Garlic Olive Oil
*** Gluten Free ***
DESSERT
Traditional Pumpkin Pie
Spiced Whipped Cream
Chef's Signature Bread Pudding
Whiskey Anglaise

-APERITIVO BY THE POOL-
CANAPES
Mushrooms Truffle Arancini
Sweet Onion &  Bacon Tartlets
Chicken Cacciatore Hand Pie
Spaghetti Wrapped Shrimp
Cheese And Cold Cuts Platters
Panisse w/ Seared Filet Blue Cheese
Pasta Chips And Guac W/Salsa
Zucchini Parmesan Crisps
Green Bean Tempura w/ Spicy Aioli
Garlic Edamame
Pretzel Bites And Jalapeño Cheese Dips
Cheese Pizza Bites
Chicken Sausage Stuffed Mini Peppers
Italian Suppli' (Rice balls)
Sweet Lavender Goat Cheese w/ Beets On A Cracker
Shrimp Salad Stuffed Cucumber
Bruschetta (Mix)
Mix Mediterranean Platter w/ Vegetable Crudité, Pickled Vegetables & Pita
COCKTAILS
Aperol Spritz (Aperol / Prosecco / Soda)
Bell Graden (Tequila / Americano Cocchi / Grapefruit / Lime)
Julip (Vodka / Grapefruit / Pomegranate Melassa)
Mangorita (Tequila / Mango / Lime)
St.Valentine (Campari / Cocchi / Lemon Soda)
Pinachelada (Tequila / Pineapple / Tomato / Modelo)
Sangria (White / Red / Pink)
CLASSICS
Craft Brewed Beers (Local)
Domestic & Imported Beers
White Wine or Rose Spritzer
Champagne

-VEGGIES / ORGANICS-

SALAD & APETIZERS
Chopped Salad, Market Lettuces, Beans, Cucumber, Pistachio, Peppers, Tomato, Parmesan
Bett COBB (Sub Out Egg If Needed)
Mushrooms And Grist And Toll Polenta
Broccoli Asparagus Soup
Split Pea Soup
10 Vegetable Minestrone
Quinoa Kale Salad, Apricot, Sunflower Seeds, Tomato, Farro, Lemon Vinaigrette
Stuffed Bake Pepper, Quinoa, Beans, Carrot, Tomato, Peas
ENTRÉE
Pasta Fagioli, Beans, Carrots, Shallots, Tomato
Cauliflower Steak, Garlic Agrodolce, Pickled Raisins, Capers
Charred Brussel Sprouts, Sesame Garlic Vinaigrette
Orange Glaze Carrots, Curry Yogurt, Carrot Top Pesto
Vegetable Fattush, Avocado Hummus, Crispy Pita, Heirloom Tomato, Persian Cucumber, Sumac
Polenta Cake, Goat Cheese Fondue, Zucchini, Mint, Peanut
Spring Vegetables Tagliatelle
Mushrooms Barley Risotto
SOFT DRINKS
Blackberry Lemon Soda
Green Tropical Iced Tea
Carrot Orange Juice
Ginger Smash
Elderflower Lemonade

-BREAKFAST- 
BUFFET / FAMILY STYLE
Fresh Fruit, Yogurt, Granola, Cheese, Mixed Muffins, Croissants, Bagels, Oatmeal
Coffee, Tea, Juice
PLATED INDIVIDUALLY
Eggs (Frittata, Omelets, 2 Eggs Any Style)
Served w/ Potatoes, Bacon & Toast
Smoked Salmon Bagel
Served w/ Tomato, Cream Cheese, Capers, Red Onion, Hardboiled Egg
Avocado Smoked Salmon Toast
Ricotta Blueberry Pancake
Brioche, French Toast w/ Banana

-KIDS MENU-
BREAKFAST
Chocolate Chip Pancakes
Pigs In A Blanket
Scrambled Eggs W/ Bacon And Potatoes
Strawberry Pop Tart
French Toast
LUNCH / DINNER
Pizza (Margherita or Pepperoni)
Baked or Fried Chicken Tenders w/ French Fries or Potato, Peas
Bacon Fried Rice
Grilled Cheese Tomato Soup
Spaghetti Tomato And Basil
Gnocchi Bolognese
Cheeseburger
Chicken Noodle Soup
Salmon Sticks w/ Zucchini Chips
Cheese Lemon Angel Hair w/ Peas
DESSERT
Cookie Ice Cream Sandwich
Hot Fudge Sundae
Strawberry Shortcake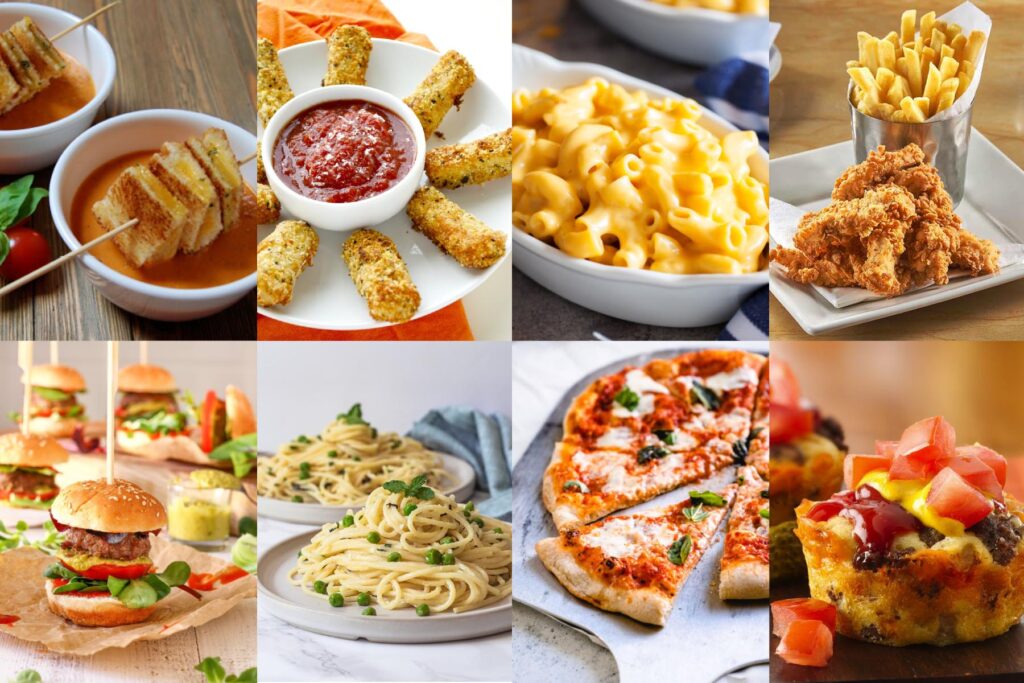 *Rates vary depending on the menu & other variables. 4 weeks advance notice is required.
Final prices cannot be quoted until guest's consultation.